The main industries where the majority of accidents and fatal injuries occur are in construction, transport & storage, manufacturing and agriculture.
According to the Building Safety Group (www.bsgltd.co.uk) the three most common causes of fatal injuries in the UK are workers falling from height, being struck by a moving vehicle and being struck by a moving object, accounting for nearly 60 percent of fatal injuries during 2017/18. The figures also reveal a higher risk to older workers, with 40% of fatal injuries in 2017/18 to more mature workers aged 60 or over. 
Construction work often requires long hours of hard manual labour in all types of weather. When a worker is physically or mentally exhausted, their attention span is reduced which can lead to costly and sometimes fatal mistakes. Safety behavioural studies show 63% of accidents and incidents in the workplace are caused by alpha mode, more widely known as 'day dreaming' or 'switching off'.
Construction sites are notoriously busy and become a constantly changing environment. As buildings, roads or bridges are constructed or demolished, heavy plant and equipment, including cranes working overhead, add to the risk of harm from moving objects.
Keeping workers safe and alerting them to a real and immediate danger is a top priority for employers. For their part, workers and site visitors must be aware of any safety hazards and the direct risks associated with their actions.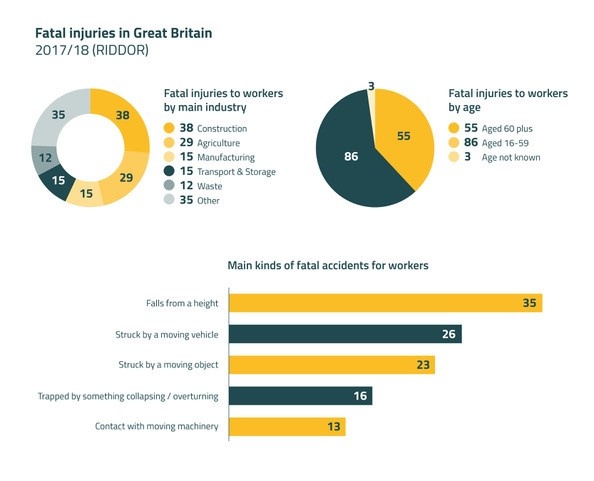 Four ways to help keep site based workers safe
Worker alert systems such as MyZone use a very low radio frequency (125kh) to set up a virtual exclusion zone around management designated safety hazards. A small receiver worn on the back of a hard hat discreetly alerts the wearer of a real or immediate danger: how it works 

Wearing the correct PPE clothing could be the difference between a minor incident or something far more serious. The MyZone receiver clips onto the rear of a hard hat and will fit even if ear defenders are worn.
All workers should receive regular and appropriate health and safety training and should be aware of the risks associated with their actions.

Any safety hazards could be clearly displayed with simple (not complicated) signs, using images rather than lots of words, so they are clearly understood in seconds.
Two way communication between employees and managers is crucial and should be actively encouraged. Employees working on site should be aware of existing potential safety hazards and be given the opportunity to report any incidents or near misses.